The "Distretto Tecnologico Sicilia Micro e Nano Sistemi" is a consortium including companies, universities, public and private research organisations, and associations representing manufacturing and service companies in Sicily.
It represents an intergrated and coherent system of "research-training-innovation" which is meant to support the sustainable economic growth of Sicily and of the regions of the so-called "Obiettivo Convergenza".
The "Distretto" in fact includes and vertically integrates the main actors of the micro and nanotechnology sector present in the region.
Ultimately, the "Distretto Micro e Nano Sistemi" is the expression of the so-called "quadruple helix propeller" model which combines the relationship between the four pillars of technological development present on the territory: research, enterprise, Public Administration and civil society. 
Each "helix propeller" plays its part in close synergy with the others.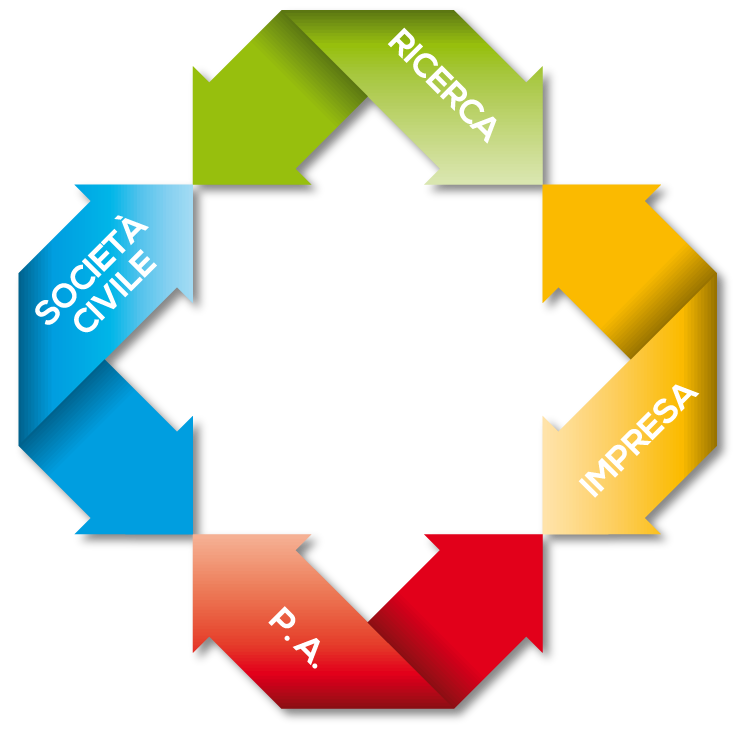 The "Distretto" represents a sort of "control room" which builds and develops the relationships with the other parts involved.
It therefore represents the "connective tissue" of development and exchange which on the one hand is able to receive the needs, trends and distinctive competences of the territory, and on the other to infuse knowledge, innovation and create and enhance cooperation. Through the "quadruple helix propeller" model, the "Distretto Micro e Nano Sistemi" therefore is able to transform a linear innovation process into a circular innovation process. Besides,the "Distretto" develops a process of "Open  Innovation" on the territory, based on multiple interactions and interdependence between research, innovation, development and production. It is the central unit of a partnership based on a network model which is able to connect different actors and operate in order to create a strong group of innovation.
The high quality level of the partners and the excellent competences and knowledge from research make it possible to target paths of innovation and subsequently validated solutions on behalf of a public-private system represented in its components at the highest levels of competence and strategical vision.
As a whole, the "Distretto", through its partnership, disposes of the KET's (Key Enabling Technologies) at the highest level of competence and strategical vision to put to good use and finalise EU funds for research, innovation, digital agenda etc. 
Furthermore, the "Distretto Micro e Nano sistemi", through its partners, has an important and advanced system of labs and research facilities.
In fact, it develops and enhances, as a network, facilities and strategical assets of partners, in particular:
over 60 high-tech research labs belonging to the three Sicilian universities and the National Research Centre (CNR);
over 12 high-tech research and industrial production centres, networked by industries such as STMicroelectronics,  IBM, SIFI, Engineering, Corvallis, Italtel;
a High-Performance Computing cluster provided by COMETA;
over 11 industrial research labs provided by consortia and the "Parco Scientifico Tecnologico" of Sicily;
a network di Universities, associated within the "Istituto Nazionale Biosistemi" and "Biostrutture".